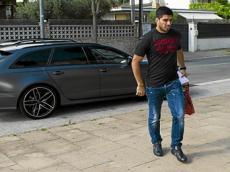 The FIFA ban imposed on Luis Suárez has forced the Uruguayan to go under the radar since his arrival in Barcelona. He underwent a very private medical at the club and had to sign his new contract without any witnesses.
The striker has been cooped up at his in-laws' house in Castelldefels, unable to meet up with his new coach at Barça's training facilities, or be presented to fans as befitting a player of his calibre. That has led to several people speaking up in his defence whilst he awaits the outcome of the appeal against his four-month ban.
One of the men who knows Suárez well from his time at Ajax, and who has also spoken up against the severity of Suárez's ban is Ronald de Boer. "He's a great lad. He isn't a bad person, he just reacted. He's very caring, very affectionate and very professional. I'm sure that Barça will support him 100% during this difficult time".
Luis Suárez is now waiting for news about when he will be able to train with Barcelona. For now he has decided to leave the Catalan capital and escape the media circus he has been subjected to since his arrival in Spain.

/Marca/