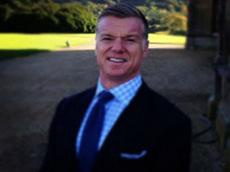 Baku 2015 European Games Operation Committee (BEGOC) has announced the appointment of Paul J Foster to the position of Director of Protocol.
Born in Australia, he is the founder and principal of consulting firm PJF Group, and will join BEGOC on a part-time basis in August 2014 before relocating full-time to Baku in November.
Mr Foster, who assisted BEGOC as a consultant for the first and second Baku 2015 Coordination Commissions last year, will lead the European Family Operations team providing high-level services to all of the event's stakeholders.
He has extensive knowledge of the Olympic movement, having previously held the position of Head of Protocol, Events and Hospitality at the International Olympic Committee (IOC) until 2012, where he worked on two Olympic Games (Athens 2004 and Beijing 2008) and one Olympic Winter Games (Vancouver 2010). During this time he was also involved in the preparations for the London 2012 and Rio 2016 Olympic Games, and the Sochi 2014 Olympic Winter Games.
Welcoming Mr Foster to BEGOC, Mr Simon Clegg, Chief Operating Officer of Baku 2015, said: "Paul has a fantastic breadth and depth of experience within the Games world and this puts him in an excellent position to integrate our international and domestic dignitary programmes.
"His international reputation and passion for sport will further enhance the existing BEGOC team and assist us in delivering an event of which Azerbaijan and the whole of Europe will be proud."
As well as working for the IOC, Mr Foster has experience of working for the Organising Committees of the Sydney 2000 Olympic Games, and Salt Lake City and Torino Winter Olympic Games in 2002 and 2006 respectively.
Mr Foster said: "I am delighted to be joining Baku 2015 and the opportunity to be involved with the inaugural European Games is a very exciting one for me.
"It is an honour to be a part of such a talented team and I look forward to working with all our national and international stakeholders to deliver an experience which will become the benchmark for all future editions of the European Games."
In addition to his professional career, Mr Foster also contributes to academia as an associate lecturer in International Relations at universities in Rome and New York.
Baku 2015 will be the first ever European Games, an exciting and innovative new multi-sport event for the continent that will take place from June 12 until June 28 2015.
There will be a total of 19 sports at Baku 2015: 16 Olympic sports and three non-Olympic sports. More than 6,000 athletes are expected to represent their nations over the 17 days of competition.
Nine of the sports will offer qualification opportunities for the Rio de Janeiro Summer Olympics in 2016. Those sports include archery, athletics, beach volleyball, cycling, shooting, swimming, table tennis, taekwondo and triathlon.
Baku was awarded the Games by the European Olympic Committees (EOC) in December 2012. The Baku European Games Operation Committee (BEGOC) will organise and run the Games in co-operation with the EOC.

/AzerTAc/