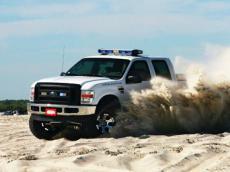 By AzerNews

One of the beaches in Absheron peninsula will host the traditional off-road competition "Beach Trial" on July 20, the event organizers Sport Car Club "Club 4x4" said.
The exciting auto show will be held on the background of the sun, sea, and sand. One of the most spectacular motor sport disciplines in the world will be accompanied by the roar of engines and the audience's excitement.
All things between start to finish line happen in a small area before the eyes of the viewers.
The track of the sprint trial is enclosed by a tape stretched around some pegs with one meter high. Competitors are passing the track in turn, trying not to dock the tape and the pegs, not to be charged with penalty points.
This unique beach trial allows everyone to experience the full capabilities of its all-wheel drive "Iron Horse" and compete for prizes.
The competitions will be held in three different categories on five routes of varying difficulty, which will give both soft-roaders and prepared cars - each in their category - a chance to participate.
CLUB4X4 is a sports car club bringing together amateur and professional sport off-road drivers, which have extensive experiences in conducting and organizing sports competitions, and taking part in international tournaments.
The club invites everyone to take part in the spectacular event.