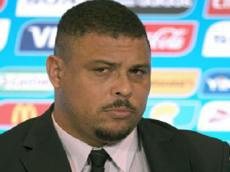 Despite three and a half years out of the game, some still feel 'O Fenômeno' Ronaldo would do a better job than the current 'Canarinha' frontline. The ex-striker is enjoying his first World Cup since he retired, but hasn't been impressed by Brazil's performances. James Rodríguez, on the other hand, has blown him away.
"We'll see what happens with James Rodríguez. Everyone is focused on the World Cup right now, but maybe something could happen after the Brazil match. I'm sure he'd be a great signing for Real Madrid, who are the best club in the world in my opinion. They would make a great combination", the 37-year-old noted.
On the subject of Neymar, Ronaldo said that "though he's still extremely young, he's a fantastic player". "I think he's learned a lot from playing alongside Messi at Barcelona. Maybe he feels more confident and a bit more comfortable when he plays for Brazil, but still I think he had a good season for Barcelona", he stated.
"I think it's been a spectacular tournament. So many people have come to Brazil and are enjoying the football, getting to know our culture and, above all, seeing incredible matches. I think the verdict is extremely positive. We're all very happy and we hope this will continue right up to the final", the striking legend added.

/Marca/