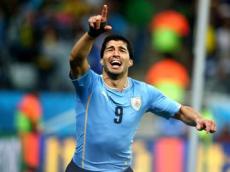 Former Barça player Gabri García, a good friend of Luis Suárez - whom he shared a dressing room with at Ajax - told the 'La Xarxa' channel that the Liverpool striker "has always wanted to play for Barça".
Barça have always been in the Uruguayan's thoughts: "He's a player that has always considered coming here one day, and if he did it would make me very happy. I think Barça would be making a great signing. He would adapt very quickly because of his hunger and he would be a very good fit for the club. He also has his wife's family in Barcelona".
The Liverpool man is in his prime: "He's mature as a footballer. He's a player with character and personality. If he were to come to Barcelona he would have what it takes to deal with the pressure of playing for a club like Barça".
His qualities: "Luis Suárez is a goalscorer. He can score goals out of practically nothing. His position is as a number 9, but he's also played on the wing sometimes. He's good with his head, he's fast, and he's a very complete player who's in great form".
Gabri and Suárez are close friends: "We got to know each other at Ajax and became very good friends. We speak the same language and that helped him to adapt to the team and to life in Holland. Our wives also became friends and we have kept in touch".

/Marca/