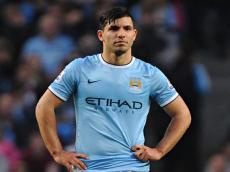 Barcelona are eager to sign Sergio Agüero. The forward would be the club's star signing for the next season. The club see him as a top-drawer player that would give a lot to the team and would also be great news for Leo Messi, who he gets on famously with.
However, Manchester City don't want to have any of it. The Argentine is the cornerstone of the club's future project and they want to make him the best player in the world. Begiristain and Pellegrini are counting on the player for the Sky Blues' future successes.
Agüero, meanwhile, wouldn't mind a change of scene. He likes the Catalan set-up a lot and the idea of playing alongside Messi. The sheikh owner of the Manchester club is in no doubt. Agüero is not for sale no matter how much Barcelona insist. The situation then is in the hands of the player himself. If Agëro publically declared his desire to leave City, he would be forcing his club's arm. For now, however, his lips are sealed.
Meanwhile, he and Messi are presently shoulder-to-shoulder at the Argentina camp getting ready for the World Cup. Leo will surely be telling his close friend about the great times they would have together were he to just say the word.

/Goal.Com/