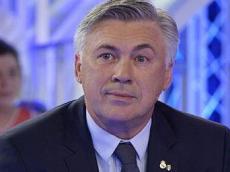 Carlo Ancelotti pleased the crowd, as ever, during his appearance on Telecinco show 'Hay una cosa que te quiero decir'. The Italian expressed his happiness at Real Madrid, whom he called "a huge club with fans all over the world".
The coach revealed that he lives in Madrid with his wife, who is Canadian but has Spanish parents; both she and Ancelotti's daughter were in the audience for the show.
'Carletto' also confided that he wears a small amulet because he is superstitious, though he didn't exhibit it: "It's something hidden, but I have it with me at all times; it nearly always works and helps me keep calm".
The ex-Milan boss heaped praise on 'Décima' hero Ramos, saying the defender had an "incredible" end to the season, and noted that he would be supporting his native Italy in Brazil: "It's been a very long season. Now I wish the Real players who are going to the World Cup luck, but I'll be rooting for Italy".
When told that the Barcelona fans hold him in high regard, he replied "I care more about what the Real fans think of me". He also highlighted his excellent rapport with the squad: "I have a good relationship with all the players, and that doesn't come easy. I speak to the lads on the same level; I'm not going to impose something if they don't buy into it".
Lastly, Ancelotti spilled some dressing-room secrets, revealing that Sergio Ramos is always last out of the dressing room before matches, Isco is the biggest eater, Xabi Alonso is the most disciplined player in the squad and Marcelo is the biggest joker.

/Marca/