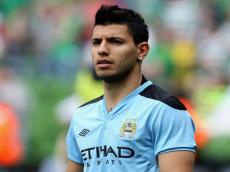 The 'Daily Star' has revealed this Thursday that Real Madrid has slapped sixty million pounds, around 70 million euros, for 'Kun' Agüero. The English paper tells how the Argenntine was the club's second option to reinforce its attacking line but that attempts to reel in Luis Suárez came to nothing.
After a possible deal with the Liverpool forward fell through, 'Los Blancos' then trained their guns on Manchester City's Agüero, who has done a fine job at the Mancunian club over the last three years. The Skyblues have had a spectacular last three seasons, winning the league in two of them, in no small part thanks to the stocky goal-machine.
Agüero has been in Florentino Perez's mind for a while now, as the president came very close to buying him off neighbours Atlético de Madrid three years ago.

/Marca/