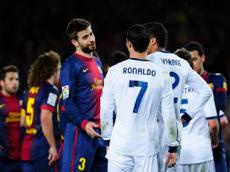 For the first time since business magazine Forbes began its rankings, two Spanish sides, Real Madrid and Barcelona, sit at the top of the list of the richest clubs in the world. Real Madrid top the pile for the second year running, with an estimated value of €2.472 billion, 4% up on last year's figure. They have annual revenues of €485 million and an operating income of €124 million.
Barcelona's value stands at €2.3 billion, a 23% increase compared to 2013, when the Catalan club ranked third behind Manchester United. United, who had topped the rankings until being dethroned by Real Madrid last year, are now third with a valuation of €2.02 billion.
Bayern Munich, Arsenal, Chelsea, Manchester City, AC Milan, Juventus and Liverpool round out the top 10. Where the player rankings are concerned, Forbes has Cristiano Ronaldo as the highest-paid player in the world, with earnings of €53 million between his salary and endorsements.
Barcelona's Lionel Messi is second in the table, having pocketed €47 million in the 2012-13 season, which is the period from which all the data in the rankings is drawn.

/Marca/