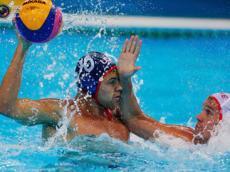 By AzerNews
An international water polo tournament is going to be held in Mingachevir, Azerbaijan, on May 4-8.
Dedicated to the 91st anniversary of National leader Heydar Aliyev, the Presidential Cup will be held in a "Kur" recreation center.
It is organized by Azerbaijan's Water Sports Federation in collaboration with country's Youth and Sports Ministry, the federation's Secretary General Farid Bananiyarli told Trend.
This year's tournament will bring six teams together, while only four teams were represented in the competition last year, Bananiyarli said.
"The tournament will feature two Azerbaijani teams - one senior and one junior, as well as teams from Georgia, Belarus, Uzbekistan, and Hungary," the secretary general said.
The Cup is a preparatory event for the European Games 2015 in which these teams, except Uzbekistan, will be presented in the same compositions, Bananiyarli said.
A traditional open international swimming tournament dedicated to the memory of Heydar Aliyev will also be held in the Shirvan Olympic Complex on May 9-14.
Athletes from Russia, Georgia, Belarus, and Turkey are expected to participate in the tournament.
"Azerbaijan's Water Sports Federation is working hard to make these traditional tournaments to get into the ranking of the competitions held under the auspices of international federations," Bananiyarli added.
Last year, Azerbaijani team defeated the Russian team in the final segment of the game with a score of 16:13 (3:3, 5:4, 4:4, 4:2) and won the tournament. In the second match of the final round, the Belarusian team won against the Georgian team with a score of 17:9.