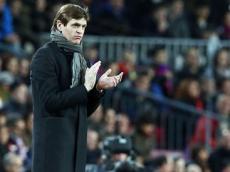 Before the game against Getafe, the Camp Nou will honour Tito Vilanova, who passed away on 25th April after his fight against parotid gland cancer. In addition to the obligatory minute's silence, Barcelona has prepared a video in his memory and the players will sport a commemorative shirt. A banner will also be unfurled on one side of the stadium.
The players' shirts will feature the words 'Tito, per sempre etern' ('Tito, always and forever') on a day which is expected to be particularly emotional for all of the 'Azulgrana' fans. It will be the 'Culé' fans' first opportunity since the death of the former manager to remember their idol in their own stadium, where a special area set aside for him has already been flooded with condolences.
Barça has asked everyone who plans to attend the Camp Nou to arrive ten minutes before the game is due to kick off. The show of support from around the world has been overwhelming and the club has received over 12,000 e-mails. The moments before the clash with Getafe will stir up strong emotions in everyone, regardless of the colours worn by the fans.
"The club intends for this to be an event for the first team players and the fans to say goodbye together," explained FC Barcelona in a statement detailing all of the events which will take place before the match.

/Marca/