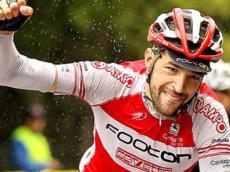 By AzerNews
Markus Eibegger won the fourth stage of the Tour de Bretagne, Azerbaijan Cycling Federation reported.
This is his first win of the season for the Azerbaijan-sponsored team and the team's second win of the year.
The Austrian cyclist won the bunch sprint on an uphill finish on a day when the team lost two key riders.
Elchin Asadov, Maksym Averin, Matt Brammeier, Luke Davison, Markus Eibegger, and Daniel Klemme ride the Tour de Bretagne for Synergy Baku Cycling Project.
The 29-year-old Eibegger had shown his good form in the third stage, where he finished fifth after many difficult climbs.
He is coming in form just in time for the upcoming Tour d'Azerbaidjan, and today's win moved him up to seventh place overall.
"With 300 meters to go, an Itera Katusha rider opened the sprint. In the strong headwind I waited until the final corner, probably 80 meters to go, passed him on the inside and went to the finish line," Eibegger said.
"My first win this season came at just the right time to take some pressure off our team. We will be ready for the Tour d'Azerbaidjan!" he said.
Two key Baku riders had to leave the race today. Elchin Asadov and Matt Brammeier both had severe colds which was enough to take them out.
Both are scheduled to ride the Tour d'Azerbaidjan starting next week, so it was decided to give them sufficient time to recover.
The fourth stage covered 189 kilometers from Jugen les Lacs to Fouesnant, and included four ranked climbs. It ended with several laps of a local circuit course, and the finish line was atop a climb of 5 percent gradient.
"Naturally, this win from Markus at Bretagne is most welcomed," said team manager David McQuaid. "Because we are a week from Tour d'Azerbaidjan where Markus is our man for General Classification."
"Three riders got away after about 10 km today and the peloton let them go, with a maximum gap of four minutes," Sport Director Arvis Piziks said. With about 50 km to go, the field picked up its speed and cut the gap to two minutes at the 20-km marker. After the next KOM ranking, the gap was less than a minute and other attacks started."
"The next group had a 30 second gap in the second lap of the closing circuit course and we expected that the bunch would not catch them. But in the last km, that group blew up and they were caught. Daniel brought Markus up to the front at the last moment, because the group slowed down with 600 meters to go and Markus was in perfect position for the sprint," he said.