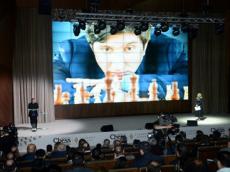 The solemn opening ceremony of the Shamkir Chess-2014 tournament commemorating Azerbaijani grandmaster Vugar Hashimov has been held in the Heydar Aliyev Center in the city of Shamkir.
Prior to the opening ceremony, the event participants observed a moment of silence to honor the memory of Vugar Hashimov.
Speakers at the event included head of the Shamkir District Executive Authorities Nazim Veysov, Deputy Minister of Youth and Sports Ismayil Ismayilov, Vice President of the Azerbaijan Chess Federation Mahir Mammadov and father of the Azerbaijani grandmaster Gasim Hashimov.
The event participants also watched a short documentary on Vugar Hashimov.
The tournament, organized by "Synergy Group", will consist of two groups.
In the Group A, Norwegian Magnus Carlsen will face Italian Fabiano Caruana, Russian Sergei Karyakin, American Hikaru Nakamura, and Azerbaijanis Shahriyar Mammadyarov and Teymur Rajabov. Money prize of the A tournament is €100,000.
In the Group B ten players will play, including five from Azerbaijan (Eltaj Safarli, Nijat Abbasov, Gadir Huseynov, Rauf Mammadov, Vasif Durabeyli) and five foreign players Hao Wang (China), Pavel Eljanov (Ukraine), Etienne Bacrot (France), Radoslav Wojtaszek (Poland), and the new European champion Alexander Motylev (Russia). The prize fund for this tournament will be €30,000.
Medals of the Shamkir Chess-2014 tournament have been ordered from Germany, cups from Turkey.