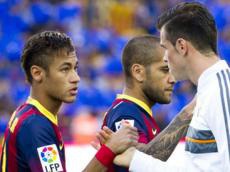 The 'Copa del Rey' final represents another chance for the two most expensive signings in Spain last summer, Gareth Bale and Neymar, to justify their price tags. With Cristiano injured and Messi off-colour, the stage is set for the duo, who together cost over 200 million euros, to make their mark.
The pair's stats would ordinarily make pretty good reading for two newcomers in Spanish football, but in this case their performances haven't quite lived up to their billing as superstars.
The Welshman has been the more effective of the two in the pair's maiden season in Spain, scoring more goals than the ex-Santos forward despite enjoying less game time.
Where trophies are concerned, though, only the Brazilian has gotten off the mark so far, having won the Spanish Super Cup back in August.

/Marca/