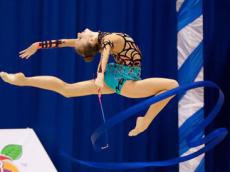 By AzerNews
Azerbaijani gymnasts won four medals, including two gold ones at the World Cup on Rhythmic Gymnastics, which was held in Lisbon on April 3-6.
Jala Piriyeva won two gold medals after her successful performance with the hoop and the ribbon, Azerbaijan's Gymnastics Federation said.
Marina Durunda, in turn, got into three finals out of four, but only one of them was the most productive for her and got our team a bronze medal.
However, great results were shown by Sabina Abbasova, Aliya Pashayeva, Siyana Vasileva, Diana Doman, Aleksandra Platonova, and Aynur Mustafayeva in all-around events.
Azerbaijan's national team gained silver medals and took second place after the Spanish athletes.
The next place where the team will represent Azerbaijan will be a sports complex in Italy. Another World Cup and international tournament for juniors will be held there on April 11-13.
Azerbaijani gymnasts have set brilliant records during 2013 games winning, 85 medals at various sports events. The most important title of the Olympic cycle was a silver medal won in the final of the European Championship in Vienna by the junior group team, which consisted of Nilufar Niftalyeva, Gulsum Shafizade, Sabina Gummatova, Alexandra Platonova, Emilia Bagiyeva, and Aynur Mustafayeva.