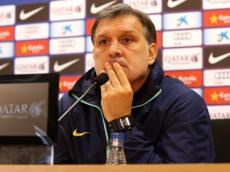 Gerardo 'Tata' Martino believes that to beat Atlético, Barcelona need to play like they did in the last half hour of the first leg: "If we can score whilst we have superiority, maybe we will see a different game to the last four we've played."
"We have in-depth knowledge of both teams. All that is missing is for Barcelona to be ahead on the scoreboard, something that is vital. We will try to score first to control the game in a different way. We have shown some superiority in the second halves. We should aim for the half hour route we took last week." he added.
When asked about Diego Costa's availability (he didn't train with the team), Martino was non-committal: "We have to prepare to play against Atlético with all the players we have available."
In the four games they have played this season, only Neymar has managed to beat Courtois. Lionel Messi still hasn't got past him. "We have grown accustomed to Leo scoring at every match and when he plays against the same rival a few times and doesn't score, we're surprised. He will be decisive in the tie, but he doesn't necessarily have to score." Martino said.

/Marca/