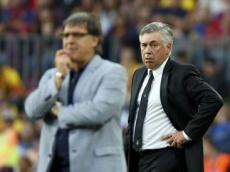 Carlo Ancelotti, speaking to the press after his team's defeat to Sevilla, said: "It's a difficult moment. With the character and will of us all we must react. The league is now more complicated, but we can still win it. Everything is possible".
Errors: "We weren't solid enough in the first half and then they scored two goals on the counter attack. We needed more balance".
Xabi Alonso: "It's not just Xabi Alonso's problem. It's true that he made a bad pass, but after we needed someone to cover his back".
Failing to beat the big rivals: "It's a complicated league; all the games are important and hard".
The future: "We have to think about ourselves. We can win the league. We are three points away from Atlético and two from Barça and everything is possible", the manager insisted.

/Marca/