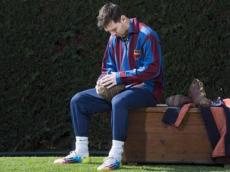 Barcelona does not want Messi's renewal to get out of hand. The two sides are poles apart in terms of what the club is offering and what the player is asking for. Right now his wage stands at a fixed €9 million per season. The club is also aware of his father's anger over the proposal he received from the Board of Directors under Bartomeu.
A senior executive of the club contacted Jorge Messi last weekend to reassure the footballer's father. "Don't worry, we're going to sort it out." he told him. The club knows all too well they cannot afford to allow their star player to move to another team.
However, so far the message has only been verbal because there has been no counter-proposal. The player made his last bid two weeks ago and since then the club has not made a move.
Jorge Messi is left waiting. He is quietly confident the club will make an offer in keeping with what Sandro Rosell promised him, but he has no intention of getting nervous. A few days ago he was on the verge of breaking off negotiations with the club and sticking to his son's current economic deal, a record €13 million net signing fee, plus bonuses for different concepts and contract termination in 2018.

/Marca/