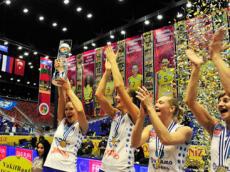 Dinamo KAZAN became the winner of the 2014 CEV Women DenizBank Volleyball Champions League after dethroning the reigning champions from VakifBank ISTANBUL as it defeated them by 3:0 (25-23, 25-11, 25-23) in the final match in Baku. Fans of both teams as well as thousands of volleyball lovers from the Azerbaijani capital flocked to the Crystal Hall to observe the grand final of Europe's most prestigious club competition.
The two teams exchanged leads before the first technical time-out, and then VakifBank took a more permanent control of the scoreboard. But Dinamo showed better performance in serving and especially blocking to turn things around in the conclusive moments of the first set. Ekaterina Gamova contributed as many as 10 points including the perfect hit for the last one that shaped up the final 25-23.
What the Russian team showed in the second set was one fantastic volleyball spectacle. Dinamo was functioning like a well-tuned machine and completely dominated on the court to take the set by a landslide 25-11.
At score of 2-1 was the last time VakifBank was in the lead in the third set. However, it was once again a very tight set. Similar, to the first part, particularly exciting was the battle of the blockers as they contributed many points on both sides of the net. The score was close and the gap never exceeded 3 points. It was this wide when Dinamo reached its first match point, but VakifBank managed to stay alive for two more rallies before the Russians converted for 25-23 to rejoice as Champions League winners.
Ekaterina Gamova was once again the best scorer of the match with 21 points for Dinamo. Jordan Quinn Larson-Burbach added another 16. Captain Gözde Sonsirma was VakifBank's most prolific player with 10 points.

/AzerTAc/