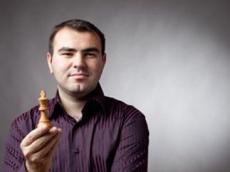 ?Azerbaijani grandmaster Shahriyar Mammadyarov has been held to a draw by Bulgarian Veselin Topalov in the 1st round of the FIDE Candidates Tournament in Khanty-Mansiysk, Russia.
The first round of the tournament saw three fairly cautious draws and a single win for former world chess champion Viswanathan Anand over Armenian Levon Aronian.
Round 2 Pairings include Kramnik vs Karjakin, Svidler vs Andreikin, Topalov vs Anand and Aronian vs Mammadyarov.
The Prize Fund to be shared by the players totals 600,000 EUR.
The FIDE Candidates Tournament will determine the challenger who will face, later this year, the current title holder World Champion Magnus Carlsen for the prestigious FIDE World Championship. The average rating of this event is 2766.
The participants will play a double round robin tournament (14 rounds). The players who are from the same federation will play each other in rounds 1, 2, 3 and 8, 9, 10.
The time control is 120 minutes for the first 40 moves, 60 minutes for the next 20 moves and then 15 minutes for the rest of the game plus an additional 30 seconds per move starting from move 61.

/AzerTAc/