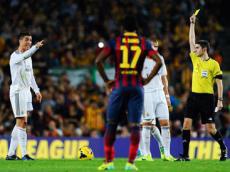 Referee Alberto Undiano Mallenco, from the Navarre region, will be in charge of the next 'Clásico' game, which will be played at the Santiago Bernabéu on 23rd March. And it just so happens that this is the same ref that laid down the law in a corresponding fixture earlier on in the season, which ended in a 2-1 victory for the 'Azulgranas'.
Undiano Mallenco was also in charge of the final of the Copa in 2011, which saw 'Los Blancos' play the 'Azulgranas' at Valencia's Mestalla stadium. That time Real came out on top, a goal from CR7 in injury time being the game's decisive - and only - goal.
It's been 20 years since the same referee has been placed in charge of both 'Clásico' fixtures during a league season. The last man to have been given the honour was Joaquín Urío Velázquez, from the Guipuzcoa region.
This will actually be the seventh 'Clásico' clash that Undiano will call the shots on, which draws him level with the legendary José María Ortiz as the referee to have dished out the justice for a Madrid-Barça game. He has also been in charge of two cup games between the sides.
Several days ago the news was broken that it would be Clos Gómez who would be handed the Real Madrid-Barcelona fixture, but things have eventually been swapped around. Clos oversaw the first leg of the Copa del Rey semi-finals between Real Madrid and Atlético.

/Marca/