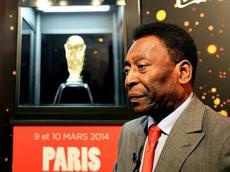 'O Rei' Pelé visited Paris as part of the European World Cup trophy tour. The Brazilian spoke about Neymar, Messi, the political problems in Brazil and the favourites to win the World Cup in an interview with AFP.
Neymar is the new star of Brazil. "It is his first World Cup and nobody really knows what will happen. He will be under a lot of pressure. He was very good at Santos, but his best decision was to go to play in Spain (for Barcelona), in Europe. For Brazil, it's as if he was going to study at university for six months. He's going to gain experience and it will be great for him", Pelé said.
Pelé added that the World Cup "is a very short competition, lasting just one month. We must be cautious because there are two or three excellent teams. Germany is a very good team. We must respect Spain because the players have been playing together for the past eight years".
On Argentine star, Lionel Messi, Pelé said: "When you see him play for Barcelona, he's one player, but when you see him play for Argentina, he's another because he's surrounded by two or three great players at Barcelona, like Xavi and Iniesta, who help him. It's different for Argentina because he finds it more difficult to connect with his teammates. He's a totally different Messi".

/Marca/