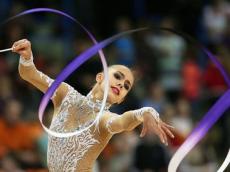 Azerbaijani gymnastics team have won gold medals in Grand Prix in France. Gymnastics Federation of Azerbaijan reported.  
Sabina Abbasova, Aliya Pashayeva, Siyana Vasileva, Diana Doman, Alexandra Platonova and Aynur Mustafayeva have won final with 3 balls and 2 ribbons under "Blue eternity" composition of never-dying Azerbaijani composer Gara Garayev.
Our team has collected 17.25 points and left Israel (2nd place) and China, France (3rd place) behind. 

/Day.Az/