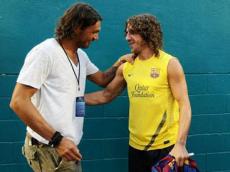 Paolo Maldini is a player for whom Carles Puyol has always expressed particular admiration. Indeed, the 'Azulgrana' defender wrote a heartfelt letter to the Italian when he announced his retirement at the age of 41.
Here is an excerpt from that letter:
"Dear Paolo. I know that, as players, we all end up hanging up our boots sooner or later. I didn't think you ever would though. You are the great Maldini, invincible. Even at 40, you had not lost your competitive edge.
I was a kid when you started playing professionally and I have admired you ever since. They say that, as we grow up, we forget our idols. That hasn't been the case for me. My respect for you has only increased over time.
Your defensive concepts, your positioning, your (always sporting) aggression are all things I admired about you... But mostly I admired the way you live football, with such intensity and with exemplary sportsmanship, something I, in my small way, have tried to mirror at Barça.
You never made any inappropriate comments and I don't remember any dirty tackles from you either. You've proved that you don't need to resort to violence to be one of the best defenders in history..."
In short, football won't be the same without Maldini...Thank you very much for all you have given to football and for being who you are".

/Marca/