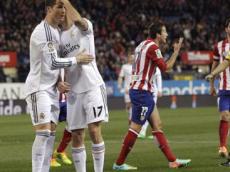 Real Madrid have done their bit, so now it's up to great rivals Barcelona to play their role if this year's Copa del Rey final is to become an extension of 'El Clasico'.
Leading 3-0 against Atletico Madrid, Real's other main rivals, Cristiano Ronaldo scored two early penalties to wrap up the most comfortable of 5-0 aggregate wins in the semifinal.
The Portuguese forward, currently serving a three-match league ban after a red card for violent conduct, was struck by a cigarette lighter as he headed towards the tunnel at halftime but reappeared afterwards without showing any ill effects.
The manner of victory is a modicum of revenge for Atletico's 2-1 triumph against Real in last year's Copa del Rey final.

/CNN/