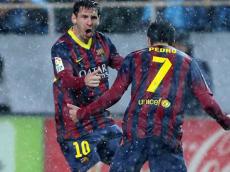 The Argentine was accused of losing his passion for football pre-match, but his coach believes he has been decisive as ever, scoring a double to put Barca top of La Liga.
Gerardo Martino says Lionel Messi has reacted superbly to doubts raised over his commitment to Barcelona by former assistant coach Angel Cappa.
Cappa claimed that the Argentine attacker has lost his passion for the game, words to which the Catalans' No.10 responded to with a classy double against Sevilla on Sunday.
However, Martino believes his strikes, his first goals in the Primera Division since September, have silenced his critics, and that he always has an impact even when not on the score-sheet.
"I would never risk speaking ill of Messi. Unconsciously, people who talk about him are in fact playing with his pride, and if you touch the pride of the best player in the world... the rival pays for that, and that's what happened today," the coach told reporters after the game.
"He is always decisive, even if it's just to draw rivals defenders inside. He becomes the focus of the other team's attention to such an extent that he creates space for others, so his involvement is always positive."
Additional strikes from Alexis Sanchez and Cesc Fabregas bookended the 26-year-old's goals to give Barca a 4-1 victory, profiting from a wasteful Sevilla side to regain top spot in La Liga.
The Blaugrana fell behind to Alberto Moreno's opener before Alexis equalised, albeit from an offside position, but the Barca coach felt they had good claims for a spot kick.
Martino added: "There was also a penalty on Messi, I saw it very well because I was on that side. Regarding the offside I didn't see it because my view was obstructed."

/Marca/