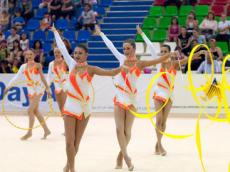 By AzerNews
A team of Azerbaijan's gymnasts will compete in the FIG Rhythmic Gymnastics International
Tournament Miss Valentine slated to be held in Estonian city of Tartu on February 7-9.
The team includes senior and junior athletes. Seniors like Marina Durunda, Gulsum Shafizade and Nulifer Niftaliyeva, juniors Zuleikha Ismailova, Jala Pirieva and Beyza Demir, as well as juniors like Sabina Abbasova, Siyana Vasileva, Aliya Pashayeva, Diana Doman, Alexandra Platonova and Aynur Mustafaeva.
"Azerbaijani team will be headed by head coach Mariana Vasileva, as well as Yasena Kuyumjieva and Vafa Bakarova," Azerbaijan's Gymnastics Federation reported.
Referees Nataliya Bulanova, Anastasia Prasolova and Evgeniya Zhidkova will also represented Azerbaijan at the event.
Miss Valentine is the biggest international gymnastics tournament in Estonia. This year's event is the 20th tournament in a row. It is the most popular gymnastics competitions worldwide because of long traditions and great atmosphere. The 20th Miss Valentine tournament will bring to Estonia more than 1000 gymnasts from all over the world.
Azerbaijani gymnasts have set brilliant records during 2013 games winning 85 medals at various sports events. The most important title of the Olympic cycle was a silver medal won in the final of the European Championship in Vienna by the junior group team, consisted of Nilufar Niftalyeva, Gulsum Shafizade, Sabina Gummatova, Alexandra Platonova, Emilia Bagiyeva, and Aynur Mustafayeva.
Marina Durunda ranked first in different fields, winning 14 medals, including 4 gold.
Moreover, one of the most expected sports event in Azerbaijan, the 30th European Championship in Rhythmic Gymnastic will be held in Baku from June 13 to 15. It will bring together athletes from over 30 countries who will be accommodated in the future Olympic Village built for the first European Games 2015, also to be held in Baku.