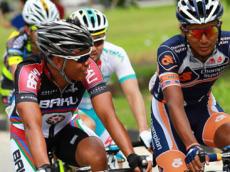 By AzerNews
Azerbaijan's first professional cycling team Synergy Baku joins the Herald Sun Tour 2.1 race in Australia, reaching good results at the New Zealand Cycle Classic.
After 2 month in preparation to the season in Spain city of Calpe, cyclists showed good results in a five-stage race from January 29 until February 2.
Daniel Klemme, German cyclist of the team, ranks second in bunch finish behind Wouter Wippert from Drapac Cycling at Stage 2 of the contest, while another German athlete of the national team Michael Schweizer leaded sprinters from the second stage and earned Sprints Classification Jersey.
Now, the team including Elchin Asadov, Tural Isgenderov, Patrick Lane, Daniel Klemme, Christoph Schweizer, and Luke Davison will compete in five staged race in Melbourne and near mountains area on February 5-9.
This year, the national team will also participate in the French cycling road race the Circuit Des Ardennes in April and one-day tour of Almaty, Kazakhstan, in August.