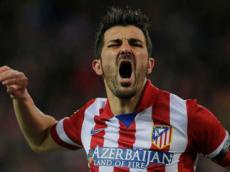 Cholo Simeone was in high spirits following Atlético's 4-0 win against Real Sociedad, which lifts the Madrid-based team to the summit of the table: "Being top for the first time since the 1995/1996 season is great and shows the work put in by the lads".
Despite the landslide victory, he commented that it had been a hard-fought encounter: "It was a hard match despite the result. The first 20 minutes were tough. The changes worked".
He went on to stress that the Atleti philosophy would remain the same: "Trying to take it game by game and managing to be competitive every two or three days is key to maintaining this level".
The Atlético coach obviously made reference to the recent death of Luis Aragonés. The 'Rojiblancos' crowd paid 'El Sabio' (the Wise One) a moving tribute with an eight-minute silence during the game: "Luis was brave and determined. He'll be looking down on us today, proud of the 'Rojiblancos' because this team is just like him".
It is good to be leading: "There is never a bad time to be top. We always look on the bright side of everything".
Diego Ribas, the squad's recent winter addition, scored in his first game: "He showed today, both with his experience and intelligence, as well as his hunger, why we wanted him here", said Simeone.

/Marca/