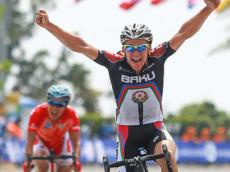 By AzerNews
Daniel Klemme, German cyclist of Azerbaijan's first professional cycling team Synergy Baku, ranks second in bunch finish behind Wouter Wippert from Drapac Cycling at Stage 2 of New Zealand Cycle Classic.
Five Synergy athletes including Elchin Asadov, Patrick Lane, Daniel Klemme, Christoph Schweizer, and Michael Schweizer compete in this five-stage race together with 95 cyclists from January 29 until February 2.
Rounding of a good day for Synergy Baku another German athlete Michael Schweizer earns Sprints Classification Jersey.
Earlier, Synergy Baku cyclist became 12th after the first stage.
Synergy Baku Cycling Project is among 20 teams from across the world in this UCI ranked 2.2 event.
This year, the national team will also participate in the French cycling road race the Circuit Des Ardennes in April and one-day tour of Almaty, Kazakhstan, in August.