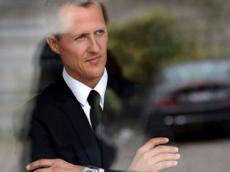 Positive results have been observed regarding the health of seven-time Formula-1 world champion Michael Schumacher, L'Equipe informs. Doctors of the clinic in Grenoble, where the German racer is still in a coma after a serious head injury, have put Schumacher in the so-called phase of gradual awakening.
The patient's brain has positively reacted to the changes. A process of rehabilitation should begin now, which may take several months.
But, as Richard Greenwood of the University College London Hospital said, Michael Schumacher will be a completely different person if he survives the severe head injuries he suffered in a
skiing accident in December, a brain injury specialist said.
"If Schumacher survives, he will not be Schumacher," the docter noted.
Even a successful recovery would still involve adjusting to an entirely different life, the Telegraph reports, citing Dr. Greenwood.
"He will be [Joe] Bloggs. His rehabilitation will only be effective if he comes to terms with being Bloggs.
"That is a very, very hard process to take people through. They need to come to terms with their limitations — the fact they have changed."
Dr. Greenwood was speaking at the launch of a study published in the Journal of the American Medical Association Psychiatry, in which it found that people who had suffered a traumatic head injury were three times as likely to die prematurely as those who had not.

/AzerTAc/