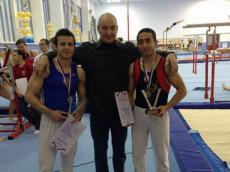 By AzerNews
Two members of Azerbaijan's national gymnastics team won two prize medals in 2014.
Shakir Shikhaliev, Azerbaijan's supreme champion, won a golden award in the Russian international tournament for the prizes of multiple Olympic champion Larisa Latinina, the press service of Azerbaijan Gymnastics Federation (AGF) reported.
The Azerbaijani gymnast's performance in floor exercises was better than the other seven finalists, the AGF said.
Shikhaliyev's team partner Ugur Khalilbeyli was also a serious contender for the prize. As a result, he earned the bronze with no less difficult a performance, bagging a second medal for the Azerbaijani team.
The experienced gymnast Shikhaliyev, who has participated in the Olympic Games in London and won international competitions, has already stood on the podium, but for Khalilbeyli this award was, as they say, the " the first swallow".
Head coach of the national team and Ukrainian expert Evgeniy Moskvin expressed satisfaction with the outcome of the tournament.
"But the performance of other participants - Eldar Safarov and junior Kamran Hajiyev - on individual apparatus in the all-around is far from ideal," the head coach said.
"We will strengthen the base, work on new elements, and prepare the athletes for the tournament from a psychological perspective as well. Important competitions will begin in March - it will be the world Cup in Germany and Qatar, and a strong tournament is expected in Ukraine."
Azerbaijani gymnasts won 85 medals in various sports events in 2013.
Moreover, Azerbaijan's Gymnastics Federation (AGF) has begun to develop two more Olympic disciplines: women's artistic gymnastics and trampoline. The country's gymnast Anna Pavlova has already won the first medals in these disciplines, including a gold one.
The creation and development of gymnastics in Azerbaijan dates back to the 1940s. As a result of this sport's popularization for a very short period, Azerbaijan Gymnastics Federation was created in 1956. After Azerbaijan gained independence in 1991, the National Federation of Gymnastics became a member of the International Gymnastics Federation in 1993, and the European Union of Gymnastics in 1996.
There are currently four kinds of sports in the federation: rhythmic gymnastics, men's gymnastics, acrobatic gymnastics, and tumbling.