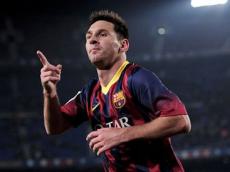 With Saturday's massive clash versus Atlético Madrid looming, Barcelona could not have asked for a better boost prior to the potentially title-deciding fixture than the return of star striker Lionel Messi. Messi appeared in his first match since sustaining an injury on November 10th against Betis and did so in spectacular fashion with two goals in the waning moments of Barcelona's 4-0 win over Getafe in the Copa del Rey.
Whether or not Messi starts against Los Colchoneros remains to be seen, but the fact that Atlético boss Diego Simeone will have to take into account and plan to try to defend against his younger countryman adds a wrinkle to what is already a massive clash between La Liga's top two sides.
All eyes were drawn to the Barcelona bench at the start of Wednesday's affair with Messi named to manager Gerardo Martino's gameday roster. The anticipation grew as the contest wore on and reached a fever pitch in the 51st minute when La Pulga emerged from the bench to warm up. His presence in front of the Camp Nou faithful was enough for the nearly 40.000 in attendance to start chanting his name while he was loosening.
Seconds after Cesc Fabregas made it 2-0 by converting a penalty, the moment all had been waiting for arrived. Andres Iniesta exited and Messi stepped onto the pitch, officially in the 64th minute. With each touch of the ball from the Argentine, those inside the Camp Nou roared with delight. Little by little Messi grew into the match and showed glimpses of his brilliance, including an 82nd minute cross for Pedro that the Canarian was just missed connecting on for a header in front of goal.
But sure enough, Messi would not be denied and he sealed his triumphant in the 89th minute with what else ' a goal. Sergio Busquets played a chip into Martín Montoya who did well to control and leave a ball to Messi who swept it into the net. A minute later the Argentine nearly struck again but his left-footed strike on a free kick was just wide. But the dream end to a magical return would come to pass as Messi gathered in a pass from Alex Song, sliced in between three defenders and rifled home a shot.
Messi is back and back big and ready for Atlético.

/Marca/