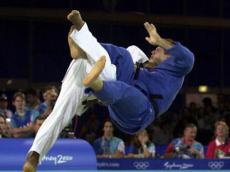 International Judo Federation's new regulations for 2014 have came into force since January 1st of the year.
A new change concerning the referee and judges reads: "Three referees of different nationalities to the two competing athletes will referee each contest.
One referee on the mat with a radio communication system is connected to the two referees on the table of the mat who will assist with a video CARE system. A rotation system will be implemented for the referees to ensure neutrality. The IJF Jury will interfere only when there is a mistake that needs to be rectified. The intervention and any change to the decisions of the referees by the IJF Jury will be made only in exceptional circumstances. The IJF Jury will interfere only when they consider it to be necessary.
IJF Jury, like referees, must be of different nationalities to the athletes on the mat. There is no appeal process for coaches, but they can approach the IJF Jury table to watch the reason for the change to the final decision.
There must be an education system to improve the level and consistency of the referees. Seminars with referees and coaches all together will be organized."
New technical assessment writes: "Ippon: to give more value and to take into account only the techniques with a real impact on the ground on the back. When the fall is rolled without real impact, it is not possible to consider it Ippon. This point is very important and it must be consistent during the whole Olympic qualification period.
Yuko: When a contestant throws his opponent, with control, and the opponent falls on the side of the upper body it should be Yuko. The IJF also corrected the regulations of the penalties as following: "During the fight there will be three Shidos, and the fourth will be Hansoku-make (3 warnings and then disqualification). Shidos do not give points to the other fighter, only technical scores can give points on the scoreboard. At the end of the fight, if scoring is equal on the scoreboard, the one with less Shidos wins. If the fight continues to Golden Score, the first receiving a Shido loses, or the first technical score will win.

/AzerTAc/