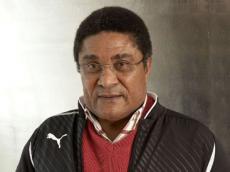 Former Portugal footballer Eusebio, often ranked as one of the best players ever, has died at the age of 71, his former club Benfica has confirmed. Cristiano Ronaldo, José Mourinho and Luis Figo were among those to pay tribute to him.
"Always eternal, Eusebio, rest in peace," the Real Madrid and former Manchester United striker wrote on Twitter alongside a picture of both men together.
Former Portuguese winger Luis Figo tweeted: "The king! Great loss for all of us! The greatest!"
Chelsea manager Jose Mourinho called him one of his country's "great figures."
Mourinho told state broadcaster RTP: "I think he is immortal. We all know what he meant for football and especially for Portuguese football. He was not only a great inspiration but also an important figure in upholding the values, principles and feelings of football, even after finishing his career".
Eusebio was the top scorer in the 1966 World Cup as he guided his team to third place in the tournament. The 71-year-old reportedly died early on Sunday morning of cardiac failure.
Nicknamed the Black Panther or the Black Pearl, Eusebio spent most of career with Benfica in Portugal after moving from the then Portuguese territory Laurenco Marquez, now Mapatu in Mozambique.
The club's fans will be offered the chance to pay their final respects to the player at the Estadio da Luz later on Sunday. "Eusebio's body will be brought to the stadium later today and all fans will be able to say goodbye," the spokesman said.
Eusebio scored 733 goals in 745 competitive games - including 317 goals in 301 appearances for Benfica - over his career and in a poll conducted for Uefa's Golden Jubilee celebrations in 2004 he was voted as the 7th best European footballer to have played the game.
He won the European Cup with Benfica in 1962 and was named European Footballer of the Year in 1965.

/Marca/