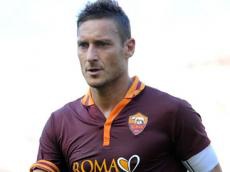 The experienced attacker, who hailed the Bianconeri's team qualities, is eagerly anticipating this weekend's league game against the Italian titleholders
Francesco Totti believes Roma have better players than Juventus, but fears the reigning champions have the upper hand as a team ahead of this weekend's Serie A encounter.
The Giallorossi will be looking to lessen the gap on the league leaders to two points when both sides meet at the Juventus Stadium on Sunday, but Totti realises they face a tough task to bag the full three points.
"Juventus are impressive. They have a strong team. They are very solid and always want to win," the 37-year-old told Il Messaggero.
"I think we are stronger individually, but they have the upper hand as a team. They have been playing together for three years.
"The difference between us is that their players are used to each other. They have been winning a lot and that has only helped them grow as a team.
"It's a bit early to talk about the Scudetto as we're only halfway through the season, but it would be a big warning if we beat Juventus - for ourselves and for our rivals."
Sunday's encounter in Turin is scheduled to kick off at 20:45CET.

/Goal.Com/