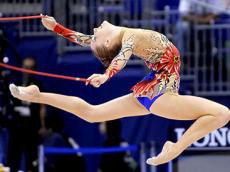 By AzerNews
Azerbaijani gymnasts won 85 medals at various sporting events in 2013, including 32 gold, 26 silver and 27 bronze.
The most important title of the new Olympic cycle is a silver medal, which was won in the final of the European Championship in Vienna by the junior group team consisting of Nilufar Niftalyeva, Gulsum Shafizade, Sabina Gummatova, Alexandra Platonova, Emilia Bagiyeva and Aynur Mustafayeva.
Azerbaijani athlete Marina Durunda became the leader in the number of awards - she won 14 medals, including 4 gold. Durunda and another Azerbaijani gymnast Lala Yusifova's spectacular performances in the finals of the European and World championships on gymnastics especially memorized for audience.
Among other successful gymnasts of 2013 are juniors Kamran Hajiyev and Anton Yashin, men and women duos in acrobatics Aynur Huseynova-Narmin Ramazanova, Lala Huseynova-Hoshgadam Guliyeva and Elchin Alibekov-Emin Gulmammadli, as well as jumper on the tumbling track Mikhail Malkin.
Moreover, Azerbaijan's Gymnastics Federation (AGF) began to develop two more Olympic disciplines - women's artistic gymnastics and trampoline. Country's gymnast Anna Pavlova has already won the first medals in these disciplines, including one gold.
Also, construction of the main training hall and the National gymnastics arena, which will host the European Championships in Rhythmic Gymnastics next year, is almost completed.
What about international achievements - European Gymnastics Union (UEG) and representatives of Fédération Internationale de Gymnastique (FIG) have visited Azerbaijan.
Baku hosted FIG Academy trainers courses of the first level (second level seminar will be held in Baku January 11-18, 2014). Moreover, Azerbaijan received the right to organize the World Cup in Rhythmic Gymnastics in 2019, European champion of 2009 Ayla Akhmedova were appointed President of the FIG Athletes Commission, representative of AGF Mekhman Aliyev became the member of the Disciplinary Commission of the FIG and Secretary General of the AGF Farid Gayibov were elected Vice President of UEG.
The creation and development of gymnastics in Azerbaijan dates back to the 1940s. As a result of the popularization of this sport for a very short period, Azerbaijan Gymnastics Federation was created in 1956.
After Azerbaijan gained independence in 1991, the National Federation of Gymnastics became a member of the International Gymnastics Federation in 1993, and the European Union of Gymnastics in 1996. There are currently four kinds of sports in the federation: rhythmic gymnastics, men's gymnastics, acrobatic gymnastics, and tumbling.