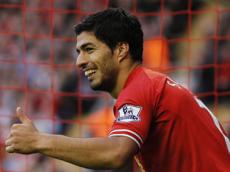 Luis Suarez committed his "long term" future to Liverpool Friday by signing a new four-and-a-half year deal with the English Premier League giants.
The 26-year-old Uruguayan international has bagged a league-leading 17 goals in 11 EPL starts this season to lead Liverpool's title challenge.
Suarez was the subject of two bids in the last transfer window from Arsenal, who currently top the standings, two points clear of second-placed Liverpool.
Read: Suarez double fires title push
But after his superb start to the current campaign he has chosen to extend his current contract, which was due to expire in 2016.
"I am delighted to have agreed a new deal with Liverpool and have my future secured for the long term," Suarez told Liverpool's official website.

/CNN/