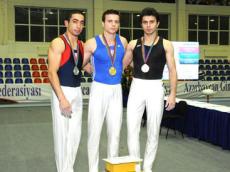 By AzerNews
Azerbaijani athlete Shakir Shikhaliyev became an absolute champion among seniors during Azerbaijan's joint tournament on gymnastics, acrobatics, and tumbling.
The tournament is being held in the Shagan-based Olympic complex on December 18-20.
The first results of the championship in gymnastics were issued.
The results of exercise in all-around show that Ali Khalilov, Aydin Alizade, Rasul Akhmedzade, Mansum Safarov, and Sarvar Aliyev took the first place in different age categories. Kamran Hajiyev came out first among the juniors, while Shakir Shikhaliyev ranked first among senior athletes.
Around 94 athletes representing five sports communities of Azerbaijan's capital -Baku Gymnastics School, Republican Olympic sports lyceum, sports school of the Nizami district, "Neftchi", and "Tehsil"- are participating in the tournament.
Gymnasts have already performed on the first and the second day of tournament, while tumblers and jumpers will perform on the last day. For the first time, Baku's spectators will be able to enjoy trampoline gymnasts, who will perform a special program.
The foreign referees of the international category, including member of the Technical Committee of the International Federation Arturs Mickevics, are also attending the tournament.
Azerbaijan Gymnastics Federation (AGF) has experience in such competitions. The last such event was held in summer, 2013, and was met with positive reviews from both participants and spectators.
The tournament in several gymnastic disciplines is more appealing to viewers who can personally observe the progress of the athletes in gymnastics, acrobatics, and tumbling.
AGF broadcasts the tournament online on its website for sports fans who for various reasons will not be able to visit the Olympic complex in Shagan, as well as for compatriots living abroad.
The creation and development of gymnastics in Azerbaijan dates back to the 1940s. As a result of the popularization of this sport for a very short period, Azerbaijan Gymnastics Federation was created in 1956.
After Azerbaijan gained independence in 1991, the National Federation of Gymnastics became a member of the International Gymnastics Federation in 1993, and the European Union of Gymnastics in 1996. There are currently four kinds of sports in the federation: rhythmic gymnastics, men's gymnastics, acrobatic gymnastics, and tumbling.