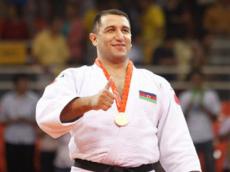 By AzerNews
An Azerbaijani two-time Paralympic champion and four-time European champion won gold medal at the IBSA Judo European Championships 2013.
While Ilham Zakiyev (100+ kg) won gold medal, Sabina Abdullayeva (57 kg), who also fought in the final, won silver medal.
Judo European Championships 2013 and Junior World Judo Games by International Blind Sports Federation are held in Eger, Hungary, on December 2-6.
Natiq Talybov (81 kg), Tofiq Mammadov (90 kg), and Zakir Muslimov (100 kg) will compete for bronze medal.
Azerbaijani Paralympic athletes have achieved great success at the championships.
Azerbaijan's team is represented by 16 athletes, five of whom are newcomers to such a competition.
The sport event is open to athletes with visual impairments in several weight categories. Contests last five minutes, and the athlete who scores the higher point wins.
Judo was first considered a martial art activity for practicing mobility, until it was included for the first time as a competitive sport at the Paralympics Games in Seoul in 1988. Women's weight categories were included at Athens games in 2004.