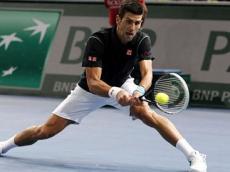 Novak Djokovic won the Paris Masters after beating David Ferrer 7-5, 7-5 in the final. It is the Serb's sixth trophy of the season and the 40th of his career. He will now aim to finish the year as world number one.
Djokovic still has a slim chance of regaining the top spot and had previously said he will fight until it is mathematically impossible to overthrow Nadal. The Serb has been true to his word and did not fail to deliver in Paris, after an exceptional Asian tour.
The first point of the match was a delicious appetizer - A rally of 27 shots that ended being won by Djokovic. The start was a physical battle by both players, but Ferrer was decisive from the baseline and won a deserved break-point in the fifth game. Unfortunately for the Spaniard, in games where the big matches are decided, the level of his performances is prone to drop unexpectedly.
Ferrer maintained the advantage up to the point when he was 5-4 ahead and serving for the first set. It was at this moment when Djokovic reacted and won four consecutive games to emphatically claim it as his.
However, Ferrer did not throw in the towel and reacted in the best way by breaking the Serb's serve to win the first game of the second set. The Spaniard rattled his opponent, who smashed his racket into the ground as he was unable to find a way past Ferrer. But then the series of events in the first set was repeated. Ferrer was serving at 5-4 only to slip up in the exact same fashion.

/Marca/