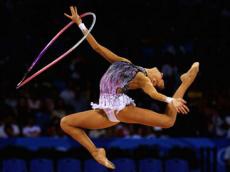 By AzerNews
Azerbaijani gymnasts have delivered successful performances at various tournaments in Europe.
Marina Durunda was successful at the traditional Italian championship in the A1 series on October 20, Azerbaijan Gymnastics Federation said.
The Armonia d'Abruzzo club became the winner due to Durunda's outstanding performance. Thus, Durunda got 17.8 points in the exercise with a ball, which was the highest result among teammates and the second highest one in the league. In total, Armonia d'Abruzzo scored 98.35 points.
Another Azerbaijani athlete, Lala Yusifova, participated in the Grand Prix in Berlin and in the final she won a bronze medal, scooping 17.15 points, behind only two Russian athletes, Daria Svatkovskaya and Margarita Mamun.
According to the head coach of the national team Mariana Vasileva, the European audience warmly welcomed the Azerbaijani athletes.
"They perform better and better, more confidently, and many experts feel delighted and react well to our gymnasts," Vasileva said. "This week already Yusifova and Durunda, as well as junior Jala Piriyeva, will take part in the World Cup in Tokyo."
Meanwhile, the European acrobatics tournament ended in Portugal. The Azerbaijani pair of Lala Huseynova and Hoshgadam Guliyeva ranked 12th in the qualifying leg. Another female duo, Aynur Huseynova and Narmin Ramazanova, and men's pair, Elchin Alibeyov and Emin Gulmammadli, will vie for victory as well.