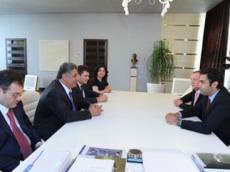 Azerbaijan`s Minister of Youth and Sport Azad Rahimov has met UN Secretary-General's Envoy on Youth, Ahmad Alhendawiç on the sidelines of the First International Model UN Security Council Conference in Baku.
Rahimov highlighted Azerbaijan`s achievements in the fields of youth and sport.
The Minister briefed the UN envoy on preparations for the inaugural European Games to be held in Baku in 2015.
Alhendawi informed the Minister on his meetings in Baku.
He stressed the importance of making further steps for holding youth and sport related events in Azerbaijan.

/AzerTAg/