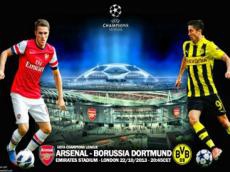 Arsene Wenger believes Arsenal's Champions League double-header against Borussia Dortmund will be "decisive" in the race to qualify from Group F.
Wenger's side host last season's runners-up tonight before heading to Dortmund for the return on matchday four.
The Gunners are currently top of their group following back-to-back wins over Marseille and Napoli.
Wenger knows another three points on Tuesday will leave Arsenal in pole position to reach the knockout stages, but he is also well aware that Dortmund could deliver a major blow to his side's qualification hopes.
"Dortmund have grown a lot and they look a different proposition now, maybe they were a bit impressed by us in the first group games when we met them in 2011, but this time they have gained confidence," Wenger told UEFA.com.
Dortmund coach Jurgen Klopp conceded his side weakened as the game went on, allowing Hanover opportunities to snatch an equaliser, but he expects them to be more dynamic. "We should be a step further, we know we can play better football (than we did against Hanover) and we will too. I have a good feeling," said Klopp, who will be absent from the bench at Arsenal as he completes a 2-game suspension for verbally abusing the 4th official during his team's loss to Napoli.

/HurriyetDailynews/