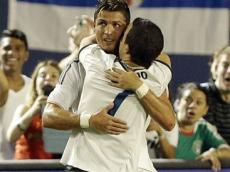 Cristiano Ronaldo is trying to come to the aid of a fan of his from the United States who, during Real Madrid's recent tour of America, ran onto the pitch and hugged him. The fan now stands accused of two offences which are considered quite serious in the US.
One of these offences is trespass, and the other is disorderly conduct. So Real Madrid's Cristiano Ronaldo has decided to send a letter to the District Attorney in Miami in order to intercede for his fan.
Ronald Gjoka, a fan originally from Albania, ran onto the pitch during the game between Real Madrid and Chelsea on 7th August at the Sun Life Stadium in Miami. Gjoka got through the security controls and ran onto the pitch, enfolding his idol in an embrace. Now, the young Albanian could have problems in terms of his immigration process and could be expelled from the US and made to go back to Albania.
And so Cristiano Ronaldo has decided to get involved in the matter and try to get his fan pardoned. This is Cristiano Ronaldo's letter to the Miami DA:
"I understand your position and the importance of enforcing rules and law. However, I respectfully request that you and your office reconsider this decision and dismiss the two criminal charges this young man faces. It is my understanding that he now recognises his error and the importance of security. I do not want to see him face criminal penalties for his error"


/Marca/