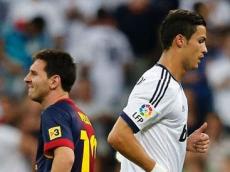 They say that the competition, and the fact that they play in the same league, make them better players. They are rivals, but they need each other. If one of them plays a great game, the other can do no less. If Cristiano Ronaldo scores three, Messi has to go out onto the pitch and do the same. A strange symbiosis.
This is the eternal battle between the titans of the footballing world year after year. Each great player needs a rival to look at, somebody to measure themselves up to, a look in the mirror to see if they are still on top form.
The last time this happened was the first match-day of the Champions League. Cristiano Ronaldo played a superb game in the Turk Telekom stadium, putting the ball in the back of the net on no less than three occasions. Then came Messi, who was not about to be out-gunned, and did the same in the Camp Nou against Ajax.
This is the sixth time that the Portuguese and the Argentine play their peculiar game of hat-trick snap. The first time was three seasons ago. In match-day 12, Barcelona made a meal of Almería, winning 0-8 - 3 of them from the boots of Messi. Just two hours later, CR7 made light work of Athletic, scoring his three. And so it has gone on up until the present day.



/Marca/