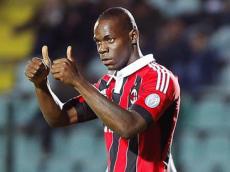 Mario Balotelli is unstoppable from the penalty spot. Since making his professional debut he has put away every one of the 21 penalties he has taken. That number increases to 26 if we count penalty shoot-outs. His spot-kicks include six for Inter, nine for City, seven for Milan and four for Italy.
Daniele Padelli was his latest victim. Milan was losing 2-1 and Balotelli levelled the game from the spot in the 97th minute. "He's unstoppable. He's so cool under pressure. Stopping him is almost impossible," said the Torino keeper in frustration.
"It's a game of wits with the opposition's keeper and I know how to control my emotions," is how Balotelli explains his success from the spot.


/Marca/