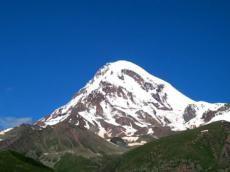 Azerbaijani climbers from Nikoil club have left for Georgia to scale the 5,042-meter-high Kazbek Mountain located in the Caucasus mountain range, and plant Azerbaijani flag there.
The ten-man expedition is led by Rasim Mammadov, head of Nikoil club.
Last month, climbers of Azerbaijan Mountaineering Federation conquered Kazbek Peak.
Mount Kazbek is one of the major mountains of the Caucasus located on the border of Kazbegi District of Georgia and North Ossetia. It is the third highest mountain in Georgia (after Mount Shkhara and Janga) and the seventh highest peak in the Caucasus Mountains. The summit lies directly to the west of the town of Stepantsminda and is the most prominent geographic feature of the area. The name in Georgian, Mkinvartsveri, translates to "glacier" or "Ice Mountain".
Mount Kazbek is associated in Georgian folklore with Amirani, the Georgian version of Prometheus, who was chained on the mountain in punishment for having stolen fire from the gods and having given it to mortals.


/AzerTAg/