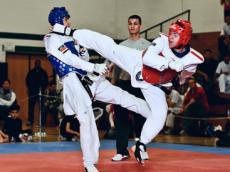 Azerbaijani para-taekwondo fighters have garnered a clutch of 9 medals, including 2 golds at the European Championship in Bucharest, Romania,.
The gold medals came from Vusal Ismayilov weighing in at 89kg and Abulfaz Abuzarli at 68kg.
Other Azerbaijani para-taekwondo fighters Nijat Muslumov and Emin Nusratdinov won silver medals in the 68kg at 58kg classes respectively, while Jahangir Bayramov, Rovshan Rzayev and Alexander Polishchuk claimed bronzes.
Female fighters Aynur Mammadova and Bahar Shikhaliyeva grabbed bronze medals in the 57kg and 49kg divisions respectively.
Azerbaijan ranked third in the overall medal table.
/AzerTac/