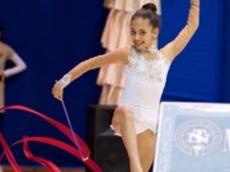 By AzerNews

Young Azerbaijani gymnast Jala Piriyeva continues successful performance at the international tournaments held within the framework of the Grand Prix Series.
Azerbaijan Gymnastics Federation reported that the 13-year-old gymnast from Baku got 4 awards at the competitions held in Israeli Holon at once.
Piriyeva was able to rise to the podium three times (the all-around, clubs and a ribbon), and, at the end of the tournament, she rose a bit higher winning the silver medal with a ball.
Earlier this month, Piriyeva won the bronze medal at the international competition also held within the framework of the first Grand-Prix Series in Moscow.
Meanwhile, another gymnast Aysha Mustafayeva also returned from Israel in a good mood.
Head coach of the Azerbaijan national team, Mariana Vasileva said that another gymnast Lala Yusifova performed well in the tournament of Grand Prix.
"Her objective was to find herself in the list of finalists and she accomplished it perfectly! Many specialists have already noted the 17-year-old athlete and her 3 finals from 4 possible ones speak for themselves. Lala`s performance with the same ball, where she finished 4th made me glad and gave me much hope," she said adding that Yusifova improves with each performance.
"Less than three months left before the European Championships, so we will try to hold positions and improve our results at the upcoming "Baltic Cup" international tournament in Poland on March15-17, where young Zuleykha Ismayilova and a junior group will take part in," Yusifova said